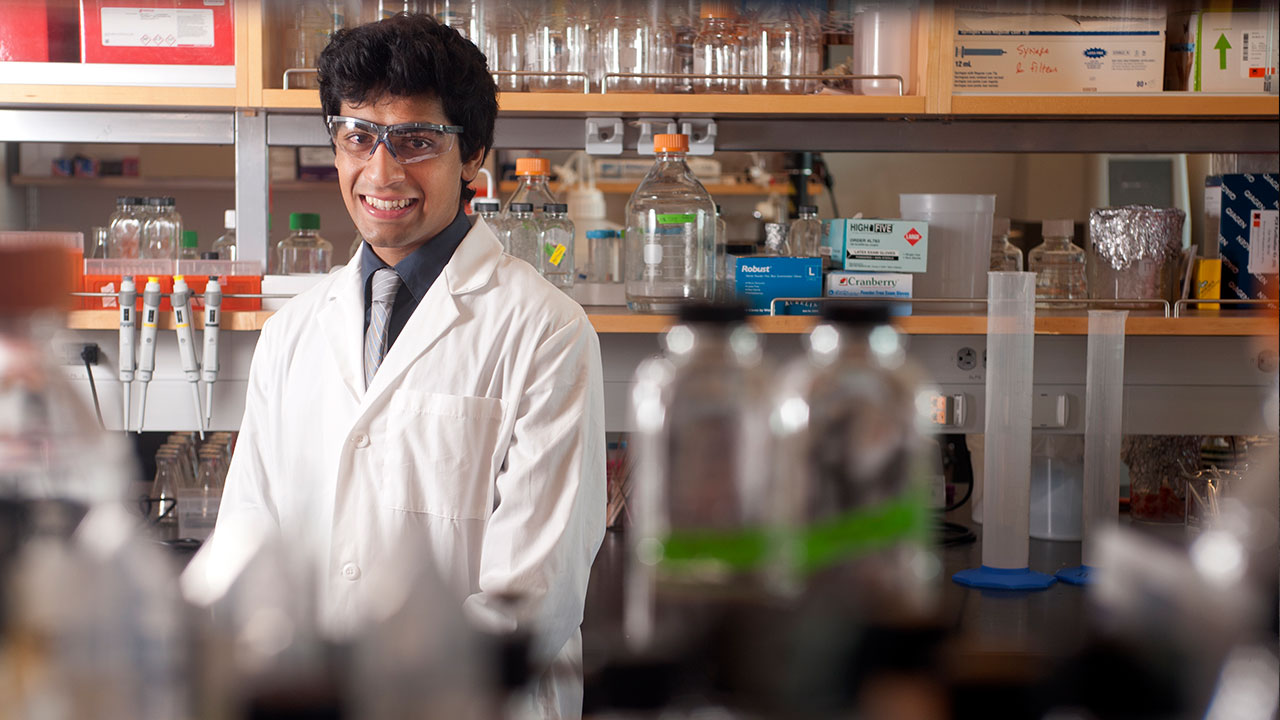 Entrepreneurship in Biotechnology
"Hard skills are what you do, and soft skills are how you do it," says Susan Vitale, chief marketing officer for iCIMS. "Unfortunately, one in three recruiting professionals believe job candidates' soft skills have gotten worse in the past five years." 
Obtaining transferable skills for a competitive edge is a goal for our graduates, especially our predoctoral candidates in science and engineering with a designated emphasis in biotechnology (DEB). The Biotechnology Program collaborates with the UC Davis Office of Research and Graduate School of Management to enhance entrepreneurial skills among faculty and students. Together, we increase the university's impact in regional economic development through new initiatives and programs that enhance the level and quality of technology transfer, business development and industry interactions in both education and interdisciplinary research programs.
Here is a look at some of the opportunities that we offer:
The

 

Business Development Fellowship Program: The year-long Business Development Fellowship program provides UC Davis science and engineering graduate and postdoctoral students hands-on experience in developing business skills for a career in industry or to develop new business ventures.
The

 

Big Bang! Business Competition: The Big Bang! provides resources for starting or growing a business venture. In addition to the business competition, the Big  Bang! offers a comprehensive series of workshops for building entrepreneurial skills.  The Big Bang! provides a year-round forum for new and early-stage startups to collaborate, develop and test business ideas. Resources include team creation, education, mentorship, networking and financing.  Hosted by the UC Davis Child Family Institute for Innovation and Entrepreneurship, the Big Bang! is the largest annual business competition in the Sacramento region.
UC Davis Venture Catalyst: The Venture Catalyst START program provides the building blocks to equip UC Davis affiliated entrepreneurs with the tools they need to form and grow successful companies. Innovators who engage with the START program have access to business coaching, legal consultation, business grant writing workshops and a network of business incubators.
A detailed description of our collaborative model can be found in this article in the Journal of Commercial Biotechnology.
Additional Resources
Presentations
The Business of Bioscience presentation by Craig Shimasaki, PhD
Jacob Jorgensen, M.D. (General Partner, Velocity Ventures) presentation, "What You Should Know If You Want to Start A Biotech Company"
Caryle Vann, PhD. (Chemical Engineer and Product Manager; Genentech) presentation, "Life After Dissertation: Deriving Maximum Value From Career Investments"
The Last Lecture by Dr. Randy Pausch
Suggested Articles, Books, etc. on Entrepreneurship and Business Leadership
An informative book that is helpful for prospective entrepreneurs who want to learn about the process of starting a biotech company is written by Yali Friedman, PhD., entitled, "Building Biotechnology: Starting, Managing, and Understanding Biotechnology Companies". (Review of book by Aris Persidis is here) Dr. Friedman received a Ph.D. in biochemistry from Buffalo University and teaches MBA-level classes on the business of biotechnology. He is a guest lecturer at the Tepper School of Business and University of Buffalo School of Management and an invited speaker at the Richard Ivey School of Business. 
Other resources include:
Start With Why: How Great Leaders Inspire Everyone to Take Action by Simon Sinek
GRIT: The Power of Passion and Perseverance by Angela Duckworth
Leaders Eat Last: Why Some Teams Pull Together and Others Don't by Simon Sinek
Together is Better by Simon Sinek
Biotech Training Programs Expand Employment Options by Clifford Mintz
Closing the Skills Gap by Linda Wang
Strengths Finder 2.0 by Tom Rath
Biotechnology Entrepreneurship (Starting, Managing, and Leading Biotech Companies) by Craig Shimasaki
Building the Bridge as you Walk on it by Dr. Robert Quinn
Career Opportunities in Biotechnology and Drug Development by Toby Freedman
NSF Program Fosters Scientists' Entrepreneurial Spirit by Andrea Widener
Cover Stories: Going Commmercial - Karen McDonald by Jyllian Kemsley
Helping Scientists Commercialize Inventions by Susan R. Morrissey
What Researchers Who Want to be Entrepreneurs Need to Know by Susan R. Morrissey
Peak: How Great Companies Get Their Mojo from Maslow by Chip Conley
The FIVE Dysfunctions of a Team: A Leadership Fable by Patrick Lencioni
A New Biology for the 21st Century by Board on Life Sciences and Earth and Life Studies
The Business of Bioscience: What Goes Into Making A Biotechnology Product by Craig Shimasaki, PhD
A Whole New Mind by Daniel Pink
Creating Alternatives in Science by Nicole Gravagna
Biotech Education article in Nature Reviews with Dr. Judy Kjelstrom
The Speed of Trust; The One Thing That Changes Everything by Stephen M.R. Covey
The 8th Habit by Stephen M.R. Covey