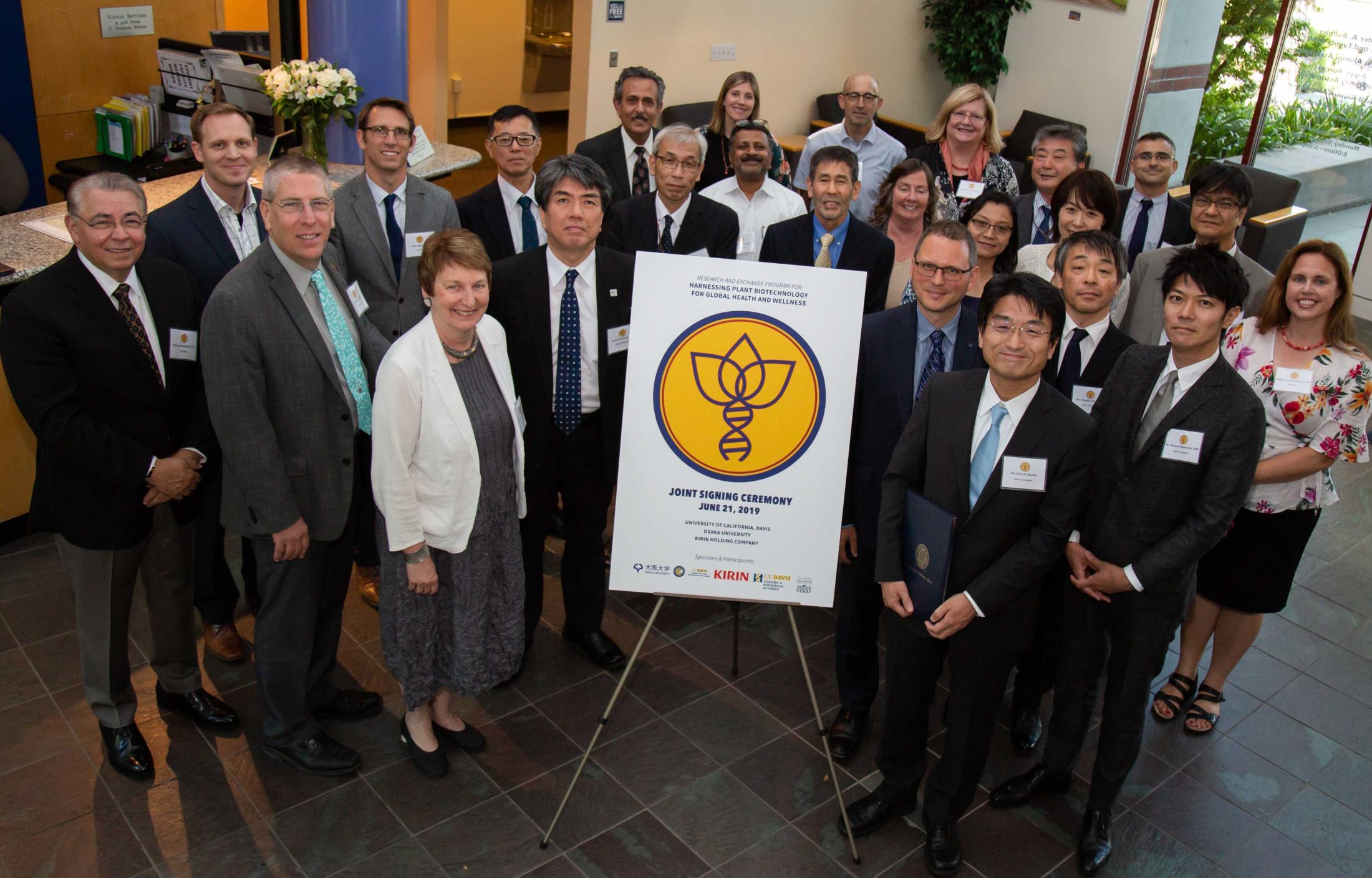 Harnessing Plant Biotechnology for Global Health and Wellness
An International Research and Exchange Program between the University of California, Davis, Osaka University and the Kirin Holdings Company, Ltd.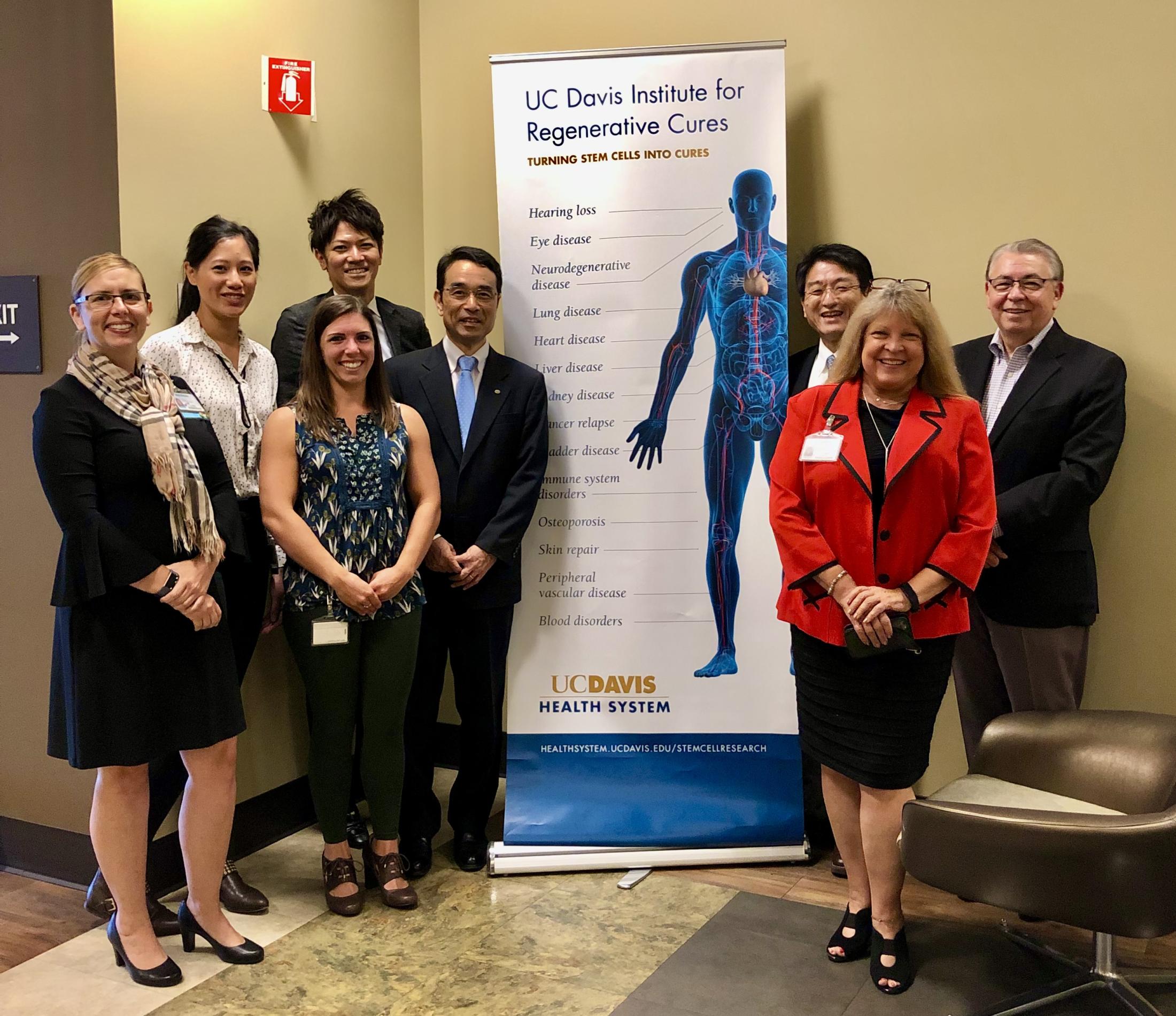 JOINT SYMPOSIUM:
November 9/10, 2021
The leaders of the project research teams hosted a joint symposium on November 9th (PST)/10th (JST) to publicly share collaborative research results for the first time. The physicochemical properties of human growth factors produced by plant cell fermentation were described and their effectiveness in cell cultures was discussed. Technoeconomic considerations for this approach were also discussed.
Under the leadership of Professor Emeritus Raymond Rodriguez (Molecular and Cellular Biology, College of Biological Sciences, UC Davis and Honorary Doctor, Osaka University), an international public-private collaboration to harness the power of plant biotechnology to provide safe, effective and sustainable therapeutics to promote human health was launched in 2019. 
In the words of Prof. Rodriguez, "The main goal of this unique tripartite effort is to train a new generation of scientists and engineers to produce health-promoting and lifesaving therapeutics from plants. Whether it's emerging pandemics or the global rise in age-related diseases, we need a new kind of mission-oriented, interdisciplinary researcher capable of working in diverse teams to quickly address global health needs."
Generously supported by the Kirin Holdings Company, Ltd., the program has funded collaborative research projects and will facilitate training exchanges for both faculty and students.  The goal has been to create a world-class international research community with shared values around the creation of new technologies that promote global health, wellness and prosperity. 
In November 2019, UC Davis scientists and engineers travelled to Osaka University to take part in a two-day research conference, exploring important technical and socioeconomic issues related to the use of plant-made pharmaceuticals (PMPs).  The interdisciplinary topics ranged across the "food - health - ecosystem" trilemma and included:
Medicinal Plant Compounds for Human Health

Techno-economics: Do PMPs Make Economic Sense?  

Stem Cell Research for Regenerative Cures

Human Augmentation and Remediation of Global Ecosystems

Plants for Food and Medicine Grown for Interplanetary Travel
 In addition to laying a scholarly foundation for collaborative research, the conference provided an opportunity for cultural exchange and professional networking. The Osaka University graduate students and early career researchers hosted an international cooking competition and accompanied the UC Davis conference guests on a visit to a Kirin Holding Company brewery in Osaka. 
Program Leaders and Participants
Participants are listed alphabetically by surname and include those who have been part of the official program launch and documentation, conferences, site visits, on-going research collaborations and related activities.
Kirin Holdings Company, Limited
Hiroyuki Naganuma,

Senior Manager, KIRIN Central Research Institute

, R&D Division
Kazuaki Ohara, 

Senior Research Scientist, KIRIN Central Research Institute

Hiroshi Okawa, Leader, 

KIRIN Central Research Institute

Hiroaki Yajima, 

Deputy General Manager of KIRIN Central Research Institute
Osaka University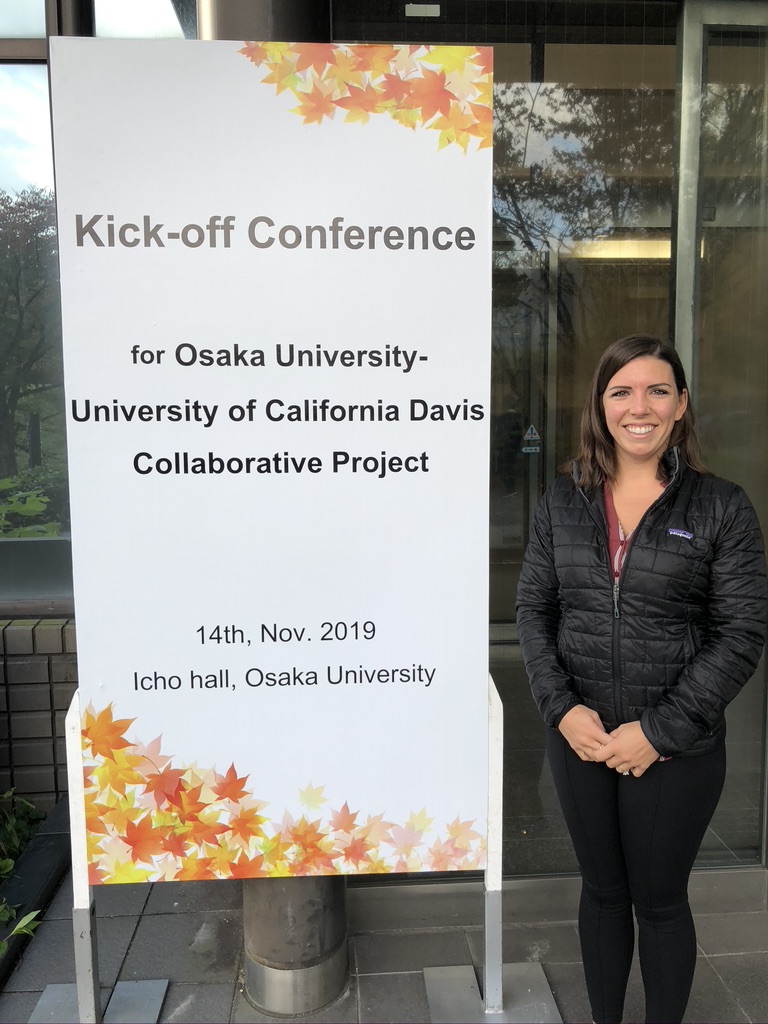 Kazuhito Fujiyama, Professor and Director, International Center for Biotechnology
Eiichiro Fukusaki, Professor, Graduate School of Engineering and Director, Industrial Biotechnology Initiative Division, Institute for Open and Transdisciplinary Research Initiative
Genta Kawahara, Professor and Vice President, Global Engagement 
Genji Kurisu, Institute for Protein Research
Jong-Kook Lee, Professor (S.A.), Graduate School of Medicine
Toshiya Muranaka, Professor, Graduate School of Engineering
Toshihiro Tanaka, Senior Executive Vice President
Masahiro Ueda, Professor, Graduate School of Frontier Biosciences and the RIKEN Center for Biosystems Dynamics Research (BDR)
Hiroshi Umakoshi, Professor, Graduate School of Engineering Science
UC Davis
John Albeck, Professor, Molecular and Cellular Biology and Member Steering Committee
Whitney Cary, Manager, Shared Translational Lab Manager and Director, Stem Cell Core, Institute for Regenerative Cures
Jennifer Sinclair Curtis, Dean, College of Engineering

Ricardo H. R. Castro, Professor and Associate Dean of Research and Graduate Studies, College of Engineering

John J. Harada, Professor, Plant Biology (formerly Executive Associate Dean of Academic Affairs College of Biological Science)

Denneal Jamison-McClung, Director, Biotechnology Program and Member, Steering Committee
Ken Kaplan, Professor, Molecular and Cellular Biology and Chair, Steering Committee
Tonya Kuhl, Professor, Chemical Engineering
Karen McDonald, Professor, Chemical Engineering and Member, Steering Committee
Somen Nandi, Adjunct Professor, Chemical Engineering and Managing Director, Global HealthShare Initiative
Jan Nolta, Professor and Director, Stem Cell Program and Institute for Regenerative Cures
Joanna Regulska, Vice Provost and Dean, Global Affairs
Raymond L. Rodriguez, Professor Emeritus, Molecular and Cellular Biology and Executive Director, Global HealthShare Initiative
Mark Winey, Dean, College of Biological Sciences
Philipp Zerbe, Professor, Plant Biology and Member, Steering Committee
Ping Zhou, Assistant Adjunct Professor, Internal Medicine and Stem Cell Program

Related Resources